Editorial Reviews
It's so important to have a catchy review on the front and/or back cover of your 'soon to be published' or 'recently published' book. And, of course, on your Amazon Book Page under Editorial Reviews.
Click on the book title links below to see some of the editorial reviews we have organised for authors. If you would like us to organise a review for you, simply click here.
What You Don't See (audio book)

By Livi Hallahan (performed by Becky Parker)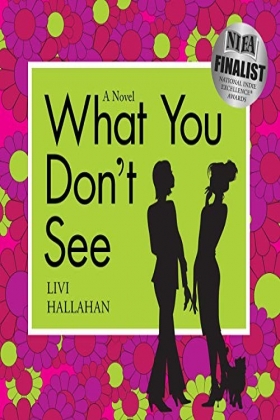 Buy on
Amazon
A WISHING SHELF BOOK REVIEW
1st March 2021
TITLE: What You Don't See (audio book)
AUTHOR: Livi Hallahan (performed by Becky Parker)
Star Rating: 5

'The narrator is superb, offering the reader a thoroughly entertaining version of this gripping novel. Highly recommended.' The Wishing Shelf

REVIEW
I remember enjoying this book a few years ago. And, it was a joy. A tale of a woman who falls in love with another woman; who must steer her way through a world of 'high heels and picket fence diplomacy'. I still recall how well written it was, and how the characters jumped off the page. I remember thinking this was the sort of book most women would find liberating; a sort of call to arms. And, it seems, I was right, for the book went on to win the gold medal in The Wishing Shelf Book Awards.
So, of course, when I was asked to listen to the audiobook of this novel , I was delighted. And I'm happy to report, the narrator did a fantastic job. Her reading of the novel is light, relaxing, with perfect intonation at just the right time. There's a sort of whimsical, happy note to her voice that brings so much to this gripping novel. On top of that, the quality of the recording is top notch, and I was able to hear every word - but not every breath; the way it should be.
If you happen to be looking for a gripping story but fancy listening to it on an iPod or in the car on the way to work, I can thoroughly recommend this audiobook. The only problem is, when you get to work, you won't want to get out of the car.
Enjoy!

A 'Wishing Shelf' Book Review
www.thewsa.co.uk

Sponsored Ads
STUFF
An amusing romp through
the history of chemistry.
www.amazon.com
---
Detour Man
Bodybuilders + terrorists =
an explosive mystery
www.books2read.com
---
The Conscious Virus -
an Aedgar Wisdom novel.
Spirits shake Aboriginal doc.
Amazon
---
The Melody of Three
1815. And the fate of worlds
is in Rein's hands.
www.amazon.com
---
Last Star Standing
Kirkus-starred adventure
"A deeply addictive read" SPR
Amazon
---
THE PAX PRINCIPLES
An awesome story for teens...
life in a very different world
Amazon
---