Meet Billy Bob Buttons
Billy Bob Buttons is a young talented author. On top of being a secondary school English teacher, he is also a pilot.
Born in the Viking city of York, he and his wife, Therese, a true Swedish girl from the IKEA county of Småland, now live in Stockholm and London. Their twin girls, Rebecca and Beatrix, and little boy, Albert, inspire Billy Bob every day to pick up a pen and work on his books.
When not writing, he enjoys tennis and playing 'MONSTER!' with his three children.
He is the author of the much loved, The Gullfoss Legends, Rubery Award finalist, Felicity Brady and the Wizard's Bookshop, UK People Book Prize runner-up, TOR Assassin Hunter and TOR Wolf Rising, I Think I Murdered Miss is his ninth children's novel.
Here he is (far right) winning the 2014 UK People's Book Prize.
The Hungry Grasshopper
Pathers CHEW on spider leg STEW, alligators CHOMP on frogs in a SWAMP, dogs GOBBLE puddings that WOBBLE and cows SLURP and always BURP.
'A delightfully sweet, rhyming story.' Best Books for Kids
'A wonderfully witty story from the wonderfully witty Billy Bob Buttons.' The Independent
I Think I Murdered Miss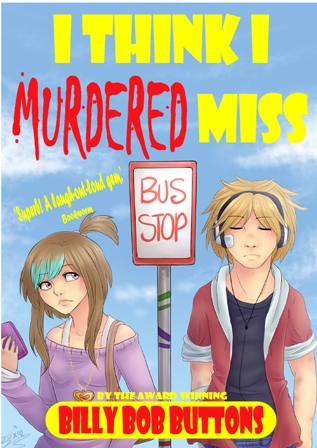 WINNER OF THE UK PEOPLE'S BOOK PRIZE, 2014
My name is Simon Spittle and I think - no, I know, I murdered Miss Belcher. I don't carry a gun. Or a knife. Or even a toothpick, but yesterday, in French, I wished for her to be run over by a bus and, later that very day, she was. A big, red double-decker with yellow wheels and a picture of a clown on the bonnet. A Billy Smart's Circus bus.
Your child with love this book. And, to be honest, so will you.' HI5 MAGAZINE
'This is a very funny book. Billy Bob Buttons is a top-notch children's writer.' ECLIPSE MAGAZINE
'Superb! A laugh-out-loud gem.' BOOKWORM
Drowning Fish
THE HUNTER: Sinjin Fury, a power-crazy wizard with a horrifying army of VERY crazy Glumsnappers.
THE HUNTED: Simon Spittle, a Star Trek-obsessed loner with the IQ of a chemistry professor, the temper of a monster with tooth rot and the gift to kill with a wish.
HIS PROTECTOR: Isabella, a street-smart Seeker who knows Simon's the key to, well, SAVING THE WORLD!
The follow-up to the fantastic I THINK I MURDERED MISS.
'Sweet, funny and totally unputdownable.' YA BOOK NEWS
Grandads Slippers
The Boy Who Piddled in his Grandads Slippers
Ralph is always piddling everywhere. He drenched Mummy's sheepskin rug. He filled Daddy's boots. He even took a tinkle in his sister's Coco Pops. But can Ralph be the hero nobody expects him to be?
'I chuckled so much my belly hurt.' BOOKS FOR KIDS
'A rhyming gem.' STORY BOX
'Very, very funny and very, very sweet. A modern classic with a twist. Boys will love it.' TONS OF FUN
Tiffany Sparrow Spook Slayer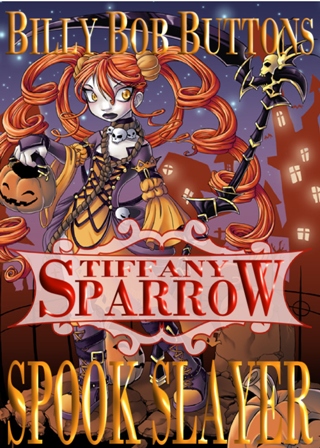 My name is Tiffany Sparrow and my job is to slay spooks. It can be messy work, but I enjoy it. Mostly. I get to do a lot of travelling which is fun, but often just to crumbling tombs and spidery cellars. My mum was a slayer too; and so was my grandmother. I miss them terribly. They were killed, you see, by Grimdorf the warlock, so now there's only me and my old grandad left.
But the word on Voodoo Street is...Grimdorf's back.
And he's brought a few of his pals with him.
'Wonderful penmanship.' TONS OF FUN
'Tiffany is the sort of girl every girl wants to be. Cool, funny and a scythe-weilding, kong fu-kicking spook slayer.'' SCHOOL NEWS
Muffin Monster
When Albert's grandad asks Albert to help him in his muffin shop, he's over the Moon. But there's a problem. A big, slimy problem. There's a monster in the cellar and he's a big fan of all things sweet!
'If you enjoy Roald Dahl's books, you'll enjoy this.' BOOKS 4 KIDS
'Fuuny bits, thrills and a hefty dash of the absurd. Wonderful stuff!' ECLIPSE
Tor Assassin Hunter
The year is 1870. Major Tor, a mercenary and deadly sniper, is called from battle to stop Locust, a SWARM assassin who is plotting to murder the King of Sweden.From the rubble and watery craters of France to the shadowy corridors of Stockholm's old castle, Tor must discover who the assassin is and put a stop to his, or her plan to throw a country into a barbaric and bloody war.
Accompany him if you dare into a world of bayonets and bullets, where the enemy's sword is forever chasing your shadow.
But remember this, when you hunt assassins... ...trust nobody.
'So many twists, I felt dizzy.' BOOKWORM
TOR Wolf Rising
A volcano of fury is stirring, trapped only by the thinnest crust of skin and willpower. The spirit of the hamrammr is in my blood...
EVIL BECKONS
'A jaw-dropping, cracker of a book.' ECLIPSE
'Dan Brown for kids!' BOOK BLAST MAGAZINE
The Gullfoss Legends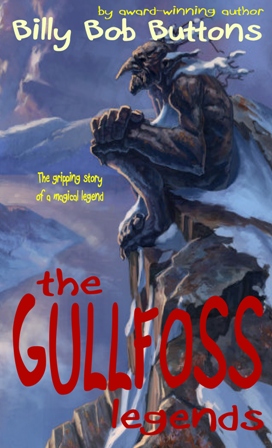 Over a century ago, a twelve year old girl walked 120 kms to Reykjavik to persuade the King to help her. Her journey lasted two weeks; two weeks of wild snow storms, skin-blistering winds and deadly clouds of volcanic ash. This is her story.
The British plan to put a dam on Gullfoss, a magnificent waterfall in Iceland, but Sigridur plans to stop them. Setting off to see the King, she must face scalding pools of hot mud, a scary wolf-man and the most evil of assassins, the ruthless Scarecrow, who must stop her at all costs.
Based on the Gullfoss Legends, this is a story for anybody who has battled but refused to give up.
'Dazzling!' Kidz BOOK CLUB
Galibrath's Will BOOK ONE
Galibrath's Will BOOK ONE (Felicity Brady and the Wizard's Bookshop)
The day Felicity Brady discovers The Wishing Shelf, a magic bookshop in the small town of Twice Brewed, is the day her life is altered forever. A helpful clock and a mulish door allow her to travel to different lands where she plays Vipers and Stepladders, pilots flying carpets and visits creepy Cauldron City. There's a krakor thunder serpent, waltzing books, even a copy of 'Be Warty, Be Proud' sitting on the cistern in the loo. Armed with an inquisitive mind and the magical skills of a wet doyley, Felicity must face monster dorfmorons, woolly glumsnappers and powerful wizards. But lurking in the shadows, watching her, is the most evil monster of them all, the terrible shubablybub. And she keeps reminding everybody, 'In school, they only teach us netball.' Life is very complicated for Felicity Brady.
Articulus Quest BOOK TWO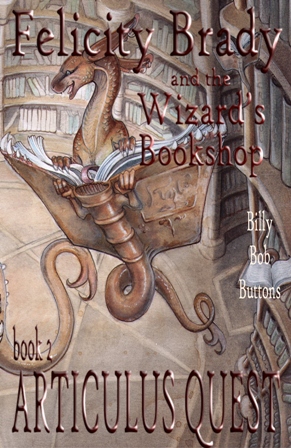 Articulus Quest BOOK TWO (Felicity Brady and the Wizard's Bookshop)
FINALIST IN THE RUBERY BOOK AWARDS 2011
If you don't go, Felicity; if you don't get Articulus back, there will be a terrible war in this land.' The gargoyle rested his claw on her shoulder. 'Galibrath left the book to you and now it is up to you to find it and return it to The Wishing Shelf. Remember, in the wrong hands it could destroy...everything.
'Full of magic and adventure. Harry Potter fans will love it.' RUBERY BOOK AWARD
'Charming! Made me wish I was young so I could find a magic bookshop of my own.' KIDS BOOKSHELF
Incantus Gothmog BOOK THREE
Incantus Gothmog BOOK THREE (Felicity Brady and the Wizard's Bookshop)
FINALIST IN THE RUBERY BOOK AWARDS 2011
Gothmog is a fool, but fools can be dangerous. He knows you can destroy Articulus, Felicity. So you must crush him. Crush him or he will crush you.
'Felicity Brady keeps getting better!' BOOK A DAY
Glumweedys Devil BOOK FOUR
Glumweedys Devil BOOK FOUR (Felicity Brady and the Wizard's Bookshop)
FINALIST IN THE RUBERY BOOK AWARDS 2011
Felicity dropped to a whisper. 'The thing is, I plan to go monster hunting in the morning so I need a bit of a 'pick me up'. I may even have to run.
So you can catch it?
God, no!' Felicity looked shocked. 'So I can leg it.
Crowls Creepers BOOK FIVE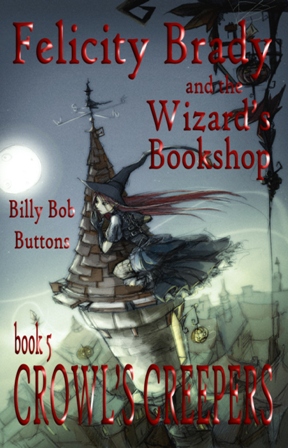 Crowls Creepers BOOK FIVE (Felicity Brady and the Wizard's Bookshop)
FINALIST IN THE RUBERY BOOK AWARDS 2011
It was night, the bats in the rafters awake and watchful. But all seemed still, most of the monsters asleep or on sentry duty by the bookshop door. But not everything slept. Hidden in the deepest corner of The Wishing Shelf, over a hundred books had gathered, answering the call to arms.
The 'Witch Spotter's' book, perched on a top shelf, hushed them. 'Brothers and sisters," she whispered, "wickedness has invaded our home. Queen Blasthoof is slowly destroying our papery world, but not for much longer for soon we will stop her.'
'A thrilling end to the Felicity Brady books.' STORY BOX
Wide Awake
Ralph's woken up and wants to play. But Daddy's still snoring in his bed. No problem! With the help of his trumpet, a very smelly nappy and three spiders in a box, Daddy will soon be wide awake!
'Kids will love it. Dads, not so much.' Story Box
Sponsored Ads
THE REINDEER CAPER
A missing reindeer, a
murdered elf and Santa in jail
www.amazon.co.uk
---
Kindness, Kale & Kettlebells
A journey to self-awareness
Amazon bestseller Bio Soc Act
amzn.to/2XH93IT
---
Letters from the Dead
Killer seeks revenge
for his daughter's suicide
www.georgerhopkins.com
---
Cuckoo Clock New York
Kindertransport-What happened
to the children in WW2?
www.amazon.com
---
Addicted To Hate
Parent abuse can take on
many different forms...
www.amazon.com
---
COUNTERACT
A must-read YA thriller series
about a totalitarian America.
www.amazon.com
---
Home Alone Harry
Children picture book showing
how to care for a family dog
Thunkies
---
Karen Nicksich
angel reader, children's
author, dog trainer
www.pet-angelreader.com
---
SEED BALLS
Simple and fun recipe
to make seed balls
Amazon
---
STUFF
An amusing romp through
the history of chemistry.
www.amazon.com
---
The Staten Island Butcher
Priest tries to rescue
student from serial killer
www.georgerhopkins.com
---
Chermpf by W. S. Russell lll
An exciting adventure with
Gracie and the Cats of Nova!
www.borderstationpress.com
---
CON ARTIST DATING
Win against con artists
and true love is yours.
www.amazon.com
---
Passionate Travellers
Around the World on 21
Incredible Journeys in History
www.amazon.co.uk
---
Hero, a Hag, and Foggle-nogger
The Race for Croggerpooey
Humorous middle grade fantasy
store.bookbaby.com
---
TRUTH AND REVENGE
Secrecy and revenge...
and a shameful family secret
www.amazon.co.uk
---
Cosmic Playbook for Writers
Daily creative inspiration and
mindfulness tools for authors.
Amazon
---
Henry Disney's
truly unforgettable read
REGAINING LIFE'S WINDING TRAIL
www.austinmacauley.com
---
Bad Bitches & Power Pitches
Use your inner bad-bitch
to achieve EVERYTHING!
www.amazon.com
---
The Opium Lord's Daughter
First Opium War told through
Chinese and English views
robertwangauthor.com
---
Everything All At Once
Teenage life (with a playlist)
Listen while you read.
www.amazon.co.uk
---
Blue Falcon Publishing
Children's publishing
outside the box.
www.bluefalconpublishing.co.uk
---
Endless Incarnation Sorrows
A Spiritual Odyssey of
Mortal Imprints on Earth
www.amazon.com
---
Two Spoons of Bitter
A story of love,
betrayal and redemption
http://www.sonjamongar
---
Dave Explores the Outdoors
Educational book, written in
a fun, rhyming style.
www.amazon.co.uk
---
Crooked Fences: A Novel
An honest story of change
and overcoming prejudice.
www.amazon.com
---
HOP STOP & GO
Travel anecdotes with humor,
wit and cultural insight
www.utpalkdutta.com
---
The Mithras Conspiracy
Corpse of a Vatican scholar
floating in the Tiber!
www.mjpolelle.com
---
MATILDA SEER
Where your name is,
there lies your power
www.amazon.com
---
HENRY (A Gold Medal Winner)
Incredible true story of WWII
w/orig photos & docs
www.amazon.com
---
THE PELICAN
'Emotional, sensitive and
deeply moving' Amazon
www.mnaidoo.com
---
Maya and the Turtle
A Korean Fairytale
Check out the audiobook
www.amazon.co.uk
---
Ever Alice
Alice returns to Wonderland to
take out the Queen of Hearts.
Amazon
---
The Frog Who Was Blue
A charity book that is
helping children in Africa.
www.childrensfunnybooks.co.uk
---
My Dad, the Earth Warrior
A fun eco-adventure brimming
with love and crazy mishaps.
www.amazon.co.uk
---
A Bloody Hot Summer
Murders uncover shocking
secrets of aristocratic family
www.trevordsilva.com
---
Kissed: A Cat Miranda Mystery
Complex characters, perfect
for mystery lovers!
Amazon
---
Mighty Mary
Incredible story of Mary,
the elephant hanged for murder
www.amazon.com
---
The Edible Machine Gun
Sound of a nuclear explosion
or the clink of coffee cups?
Amazon
---
WATER DRAGON
Illustrating the powerful
bond of friendship. 6-12 yrs
www.amazon.co.uk
---
JUST FINISH!
"Inspirational, motivational
& captivating" New Runner
www.payhip.com
---
PERHAPS YOU WERE BORN FOR JUST
SUCH A TIME AS THIS: For every
teen and all who know a teen
www.carolynhayes.net
---
The Moon Pigeon
NASA report on 'MOON PIGEONS'
Discover the truth!
www.amazon.com
---
Inconvenient Memories
An intimate account of a
modern Chinese social tragedy
www.amazon.com
---
A BIOGRAPHY OF STORY
The power of stories, a global
history of storytelling
www.bookdepository.com
---
Common '?' Children Ask About
Puberty: Insights from a
health education expert
www.lorireichel.com/book/books
---
SUBMIT HORROR
14 tales - new and renewed -
of imminent terror!
www.amazon.co.uk
---
Unholy Retribution
Someone's decapitating
Muslims to frame a priest
www.georgerhopkins.com
---
The Labyrinthine Journey
A mysterious message.
A mission from the gods.
www.amazon.com
---
Where I Belong
When the past is forgotten,
the future can change
www.amazon.co.uk
---
THE VATICAN GAMES
Decoding the future will
be her ultimate challenge!
www.thevaticangames.com
---
SECRETS AND SPIES
Life-affirming, Scottish,
WW2, Boys' adventure.
www.amazon.com
---
The Irish bog imp tales
Lock up your donkeys,
the bog imps are coming!
www.irishbogimptales.com
---
GUIAMO, Book 1
Epic B.C. story combining
history, myth and gods.
www.amazon.co.uk
---
THE FLOATING UMBRELLA
There could be more
than meets the eye.
www.amazon.com
---
Lucky by RH Webster
Mystery and romance await
Lucky on a flight to Earth.
Amazon
---
Billy Blacksmith: Demonslayer
Teenagers vs demonic,
sword-wielding spiders
www.amazon.com
---
Making a Mystery:Annie Tillery
Author/Educator, Linda Frank,
the story behind the story
www.amazon.com
---