Meet Billy Bob Buttons
Billy Bob Buttons is a young talented author. On top of being a secondary school English teacher, he is also a pilot.
Born in the Viking city of York, he and his wife, Therese, a true Swedish girl from the IKEA county of Småland, now live in Stockholm and London. Their twin girls, Rebecca and Beatrix, and little boy, Albert, inspire Billy Bob every day to pick up a pen and work on his books.
When not writing, he enjoys tennis and playing 'MONSTER!' with his three children.
He is the author of the much loved, The Gullfoss Legends, Rubery Award finalist, Felicity Brady and the Wizard's Bookshop, UK People Book Prize runner-up, TOR Assassin Hunter and TOR Wolf Rising, I Think I Murdered Miss is his ninth children's novel.
Here he is (far right) winning the 2014 UK People's Book Prize.
The Hungry Grasshopper
Pathers CHEW on spider leg STEW, alligators CHOMP on frogs in a SWAMP, dogs GOBBLE puddings that WOBBLE and cows SLURP and always BURP.
'A delightfully sweet, rhyming story.' Best Books for Kids
'A wonderfully witty story from the wonderfully witty Billy Bob Buttons.' The Independent
I Think I Murdered Miss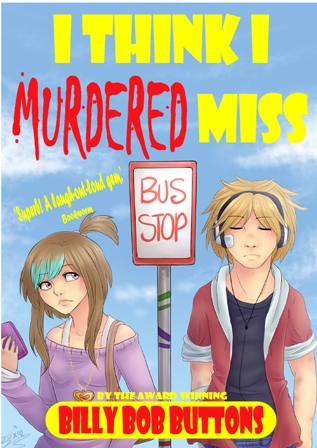 WINNER OF THE UK PEOPLE'S BOOK PRIZE, 2014
My name is Simon Spittle and I think - no, I know, I murdered Miss Belcher. I don't carry a gun. Or a knife. Or even a toothpick, but yesterday, in French, I wished for her to be run over by a bus and, later that very day, she was. A big, red double-decker with yellow wheels and a picture of a clown on the bonnet. A Billy Smart's Circus bus.
Your child with love this book. And, to be honest, so will you.' HI5 MAGAZINE
'This is a very funny book. Billy Bob Buttons is a top-notch children's writer.' ECLIPSE MAGAZINE
'Superb! A laugh-out-loud gem.' BOOKWORM
Drowning Fish
THE HUNTER: Sinjin Fury, a power-crazy wizard with a horrifying army of VERY crazy Glumsnappers.
THE HUNTED: Simon Spittle, a Star Trek-obsessed loner with the IQ of a chemistry professor, the temper of a monster with tooth rot and the gift to kill with a wish.
HIS PROTECTOR: Isabella, a street-smart Seeker who knows Simon's the key to, well, SAVING THE WORLD!
The follow-up to the fantastic I THINK I MURDERED MISS.
'Sweet, funny and totally unputdownable.' YA BOOK NEWS
Grandads Slippers
The Boy Who Piddled in his Grandads Slippers
Ralph is always piddling everywhere. He drenched Mummy's sheepskin rug. He filled Daddy's boots. He even took a tinkle in his sister's Coco Pops. But can Ralph be the hero nobody expects him to be?
'I chuckled so much my belly hurt.' BOOKS FOR KIDS
'A rhyming gem.' STORY BOX
'Very, very funny and very, very sweet. A modern classic with a twist. Boys will love it.' TONS OF FUN
Tiffany Sparrow Spook Slayer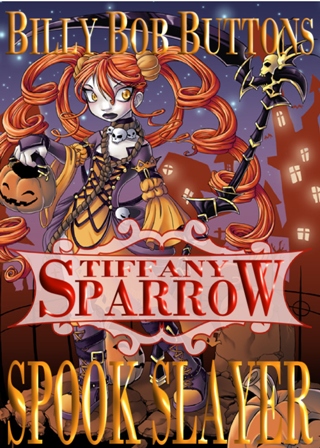 My name is Tiffany Sparrow and my job is to slay spooks. It can be messy work, but I enjoy it. Mostly. I get to do a lot of travelling which is fun, but often just to crumbling tombs and spidery cellars. My mum was a slayer too; and so was my grandmother. I miss them terribly. They were killed, you see, by Grimdorf the warlock, so now there's only me and my old grandad left.
But the word on Voodoo Street is...Grimdorf's back.
And he's brought a few of his pals with him.
'Wonderful penmanship.' TONS OF FUN
'Tiffany is the sort of girl every girl wants to be. Cool, funny and a scythe-weilding, kong fu-kicking spook slayer.'' SCHOOL NEWS
Muffin Monster
When Albert's grandad asks Albert to help him in his muffin shop, he's over the Moon. But there's a problem. A big, slimy problem. There's a monster in the cellar and he's a big fan of all things sweet!
'If you enjoy Roald Dahl's books, you'll enjoy this.' BOOKS 4 KIDS
'Fuuny bits, thrills and a hefty dash of the absurd. Wonderful stuff!' ECLIPSE
Tor Assassin Hunter
The year is 1870. Major Tor, a mercenary and deadly sniper, is called from battle to stop Locust, a SWARM assassin who is plotting to murder the King of Sweden.From the rubble and watery craters of France to the shadowy corridors of Stockholm's old castle, Tor must discover who the assassin is and put a stop to his, or her plan to throw a country into a barbaric and bloody war.
Accompany him if you dare into a world of bayonets and bullets, where the enemy's sword is forever chasing your shadow.
But remember this, when you hunt assassins... ...trust nobody.
'So many twists, I felt dizzy.' BOOKWORM
TOR Wolf Rising
A volcano of fury is stirring, trapped only by the thinnest crust of skin and willpower. The spirit of the hamrammr is in my blood...
EVIL BECKONS
'A jaw-dropping, cracker of a book.' ECLIPSE
'Dan Brown for kids!' BOOK BLAST MAGAZINE
The Gullfoss Legends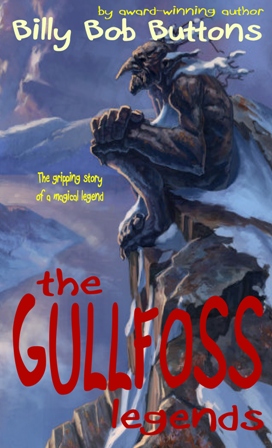 Over a century ago, a twelve year old girl walked 120 kms to Reykjavik to persuade the King to help her. Her journey lasted two weeks; two weeks of wild snow storms, skin-blistering winds and deadly clouds of volcanic ash. This is her story.
The British plan to put a dam on Gullfoss, a magnificent waterfall in Iceland, but Sigridur plans to stop them. Setting off to see the King, she must face scalding pools of hot mud, a scary wolf-man and the most evil of assassins, the ruthless Scarecrow, who must stop her at all costs.
Based on the Gullfoss Legends, this is a story for anybody who has battled but refused to give up.
'Dazzling!' Kidz BOOK CLUB
Galibrath's Will BOOK ONE
Galibrath's Will BOOK ONE (Felicity Brady and the Wizard's Bookshop)
The day Felicity Brady discovers The Wishing Shelf, a magic bookshop in the small town of Twice Brewed, is the day her life is altered forever. A helpful clock and a mulish door allow her to travel to different lands where she plays Vipers and Stepladders, pilots flying carpets and visits creepy Cauldron City. There's a krakor thunder serpent, waltzing books, even a copy of 'Be Warty, Be Proud' sitting on the cistern in the loo. Armed with an inquisitive mind and the magical skills of a wet doyley, Felicity must face monster dorfmorons, woolly glumsnappers and powerful wizards. But lurking in the shadows, watching her, is the most evil monster of them all, the terrible shubablybub. And she keeps reminding everybody, 'In school, they only teach us netball.' Life is very complicated for Felicity Brady.
Articulus Quest BOOK TWO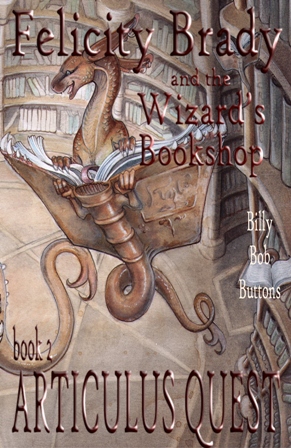 Articulus Quest BOOK TWO (Felicity Brady and the Wizard's Bookshop)
FINALIST IN THE RUBERY BOOK AWARDS 2011
If you don't go, Felicity; if you don't get Articulus back, there will be a terrible war in this land.' The gargoyle rested his claw on her shoulder. 'Galibrath left the book to you and now it is up to you to find it and return it to The Wishing Shelf. Remember, in the wrong hands it could destroy...everything.
'Full of magic and adventure. Harry Potter fans will love it.' RUBERY BOOK AWARD
'Charming! Made me wish I was young so I could find a magic bookshop of my own.' KIDS BOOKSHELF
Incantus Gothmog BOOK THREE
Incantus Gothmog BOOK THREE (Felicity Brady and the Wizard's Bookshop)
FINALIST IN THE RUBERY BOOK AWARDS 2011
Gothmog is a fool, but fools can be dangerous. He knows you can destroy Articulus, Felicity. So you must crush him. Crush him or he will crush you.
'Felicity Brady keeps getting better!' BOOK A DAY
Glumweedys Devil BOOK FOUR
Glumweedys Devil BOOK FOUR (Felicity Brady and the Wizard's Bookshop)
FINALIST IN THE RUBERY BOOK AWARDS 2011
Felicity dropped to a whisper. 'The thing is, I plan to go monster hunting in the morning so I need a bit of a 'pick me up'. I may even have to run.
So you can catch it?
God, no!' Felicity looked shocked. 'So I can leg it.
Crowls Creepers BOOK FIVE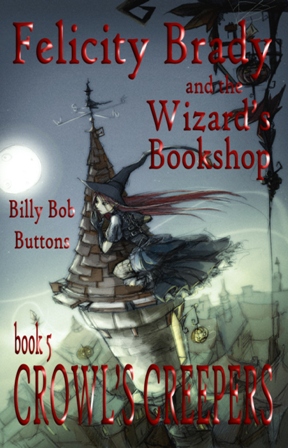 Crowls Creepers BOOK FIVE (Felicity Brady and the Wizard's Bookshop)
FINALIST IN THE RUBERY BOOK AWARDS 2011
It was night, the bats in the rafters awake and watchful. But all seemed still, most of the monsters asleep or on sentry duty by the bookshop door. But not everything slept. Hidden in the deepest corner of The Wishing Shelf, over a hundred books had gathered, answering the call to arms.
The 'Witch Spotter's' book, perched on a top shelf, hushed them. 'Brothers and sisters," she whispered, "wickedness has invaded our home. Queen Blasthoof is slowly destroying our papery world, but not for much longer for soon we will stop her.'
'A thrilling end to the Felicity Brady books.' STORY BOX
Wide Awake
Ralph's woken up and wants to play. But Daddy's still snoring in his bed. No problem! With the help of his trumpet, a very smelly nappy and three spiders in a box, Daddy will soon be wide awake!
'Kids will love it. Dads, not so much.' Story Box
Sponsored Ads
Zuma the Dog
Get your official Zuma the Dog
merchandise here.
www.zumathedog.com
---
Henry Disney's
truly unforgettable read
REGAINING LIFE'S WINDING TRAIL
www.austinmacauley.com
---
The Graceful Ghost
Page-turning antics with
ghosts in a ballet school!
Amazon
---
Orc Road Trip
"Punching isn't the answer,"
said no orc ever.
www.amazon.com
---
THE CAT DETECTIVES IN RUSSIA
Pack your suitcase for a
four-legged mystery series
www.amazon.co.uk
---
THE GOA FILE
Thrilling historical novel set
in Argentina 1945 - 1982
www.goodreads.com
---
THE DISAPPEARING DIRECTOR
A mystery with intrigue,
romance, and ghostly aura
www.amazon.com
---
Just Say "$%#&! NO!"
A Book Dedicated to the
Well Intended Overextended!
Amazon
---
STUFF
An amusing romp through
the history of chemistry.
www.amazon.com
---
Cosmic Playbook for Writers
Daily creative inspiration and
mindfulness tools for authors.
Amazon
---
Eve's Ducklings
Adorable story about a girl
wanting to befriend ducklings
www.mariamonte.com
---
Ever Alice
Alice returns to Wonderland to
take out the Queen of Hearts.
Amazon
---
To Bury the Cloud
A journey where physical and
emotional roads intertwine
Amazon
---
Slimmer by Wendy Jayne
'This time she's determined
to lasso his heart.'
www.amazon.com
---
Anya and her Wings
'Enchanting! A FINALIST
and highly recommended' TheWSA
www.amazon.co.uk
---
Masters of the Broken Watches
A time, myth, and
science adventure thriller.
Amazon
---
A Bloody Hot Summer
Murders uncover shocking
secrets of aristocratic family
www.trevordsilva.com
---
Early Myths
Greek myths
for young kids
www.amazon.com
---
Penitentiary Tales: Love Story
Privileged young white man
sent to harrowing State Prison
www.amazon.com
---
THE BELLYBUTTON QUESTION
Do dinosaurs have
bellybuttons? For ages 2-5
www.damonartsnola.com
---
SUBMIT HORROR
14 tales - new and renewed -
of imminent terror!
www.amazon.co.uk
---
The Whimple Inn
Clean children's book about
shapeshifters! Ages (9-14)
Amazon
---
Gobbledy - a fun-filled story
2 brothers, 3 friends, and 1
little alien far from home.
www.amazon.com
---
WATER DRAGON
Illustrating the powerful
bond of friendship. 6-12 yrs
www.amazon.co.uk
---
Passionate Travellers
Around the World on 21
Incredible Journeys in History
www.amazon.co.uk
---
ICE QUEEN
YA romance about the dangers
of sexting & cyberbullying.
www.amazon.com
---
Ripley of Valor
Engaging character, likable,
fascinating.' BookPipeline
www.thorensyndergaard.com
---
Give Them Unquiet Dreams
Can he free his mother from
a psychiatric institute?
www.amazon.com
---
I AM ME
Sensitive picture book 3-7,
profit spent on child refugees
www.suehamptonauthor.co.uk
---
Raindrops: How Meditation...
Searching for spiritual
stability and mental health.
Facebook
---
THE ILLUSTRATED HEN
'Imaginative, often surreal...
written with flamboyance.' WSA
www.amazon.com
---
SECRETS AND SPIES
Life-affirming, Scottish,
WW2, Boys' adventure.
www.amazon.com
---
The Labyrinthine Journey
A mysterious message.
A mission from the gods.
www.amazon.com
---
Hamsly, Burdance, & Dogston...
A hamster, a bird, and a
dog compete. Who will win?
Amazon
---
Pull A Funny Face
Promoting inclusion however
'different' someone seems.
www.amazon.co.uk
---
Cuckoo Clock New York
Kindertransport-What happened
to the children in WW2?
www.amazon.com
---
Maya and the Turtle
A Korean Fairytale
Check out the audiobook
www.amazon.co.uk
---
Cognition
Is human intelligence at its
peak, or just taking off?
www.amazon.com
---
The White Hand
A Story of Forbidden Love,
Betrayal, and Murder.
www.amazon.com
---
On Traigh Lar Beach
13 items on a beach; 13
stories of how they got there
Amazon
---
Addicted To Hate
Parent abuse can take on
many different forms...
www.amazon.com
---
The Power of Positivity:
The ABC's of a Pandemic
5 Star Rating on Amazon!
Amazon
---
Henry Disney's
truly unforgettable read
REGAINING LIFE'S WINDING TRAIL
www.austinmacauley.com
---
Where Have We Come
Is love stronger than the
tragedy that haunts them?
Amazon
---
PAPA & PAWS
Cute doggie illustrations
& heartwarming stories
www.papaandpaws.com
---
Cosmic Playbook for Writers
Boost Your Creativity,
Resilience & Passion
Amazon
---
FIRST MAGYC
A Prophecy & a choice will tip
the Balance, for light or dark
Amazon
---
F'lorna of Rodesh
Life's more than simply song &
dance. Destiny cries out!
www.amazon.com
---
The Melody of Three
1815. And the fate of worlds
is in Rein's hands.
www.amazon.com
---
Practice Makes Better
Beautifully illustrated book
to foster growth mindset.
Amazon
---
The Demonic Virtue
The tale of all tales.
The journey of Atopher.
Amazon
---
Tupelo Honey
Gritty, superbly written. Full
of unforgettable characters.
www.amazon.com
---
The Assassin of Malcoze
An assassin's plot will
change the kingdom forever
Amazon
---
Masquerade
Personal tragedy, hardship...
AND A LOVE OF JAZZ
Amazon
---
CALEDONIA
Historical Novel, Scotland,
Adventure, Romance, Mystery
www.amazon.com
---
The Adventures of T J...
T J's disability is no barrier
to a happy and fulfilling life
www.amandakehoebooks.com
---
Blessed Assurance
'A gripping, character-led
story…highly recommended.'
www.amazon.com
---
As the Daisies Bloom
A loving exploration of
generosity, peace and hope
Amazon
---
Weapons of Remorse
Accidental shooting shatters
three American families
Amazon
---
Masquerade
Personal tragedy, hardship...
AND A LOVE OF JAZZ
Amazon
---
The Strange Woman
Witch trials, feminism,
farming and wildflowers.
www.sheepshedpress.com
---
CALEDONIA
Historical Novel, Scotland,
Adventure, Romance, Mystery
www.amazon.com
---