Editorial Reviews
It's so important to have a catchy review on the front and/or back cover of your 'soon to be published' or 'recently published' book. And, of course, on your Amazon Book Page under Editorial Reviews.
Click on the book title links below to see some of the editorial reviews we have organised for authors. If you would like us to organise a review for you, simply click here.
The Wight Thing

By Elisabeth Marrion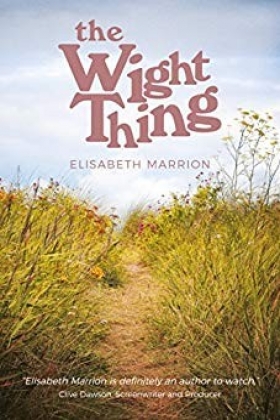 Buy on
Amazon
'A wonderfully warm, powerfully written, story populated with memorable characters.' The Wishing Shelf

REVIEW
For the last three days I have been thoroughly immersed in The Wight Thing, a novel set in contemporary England. Let me begin by saying how gripping this story is. Although, for me, it wasn't the story so much, as the characters. Christine, Nobby, Henry and the rest of the gang are very much the jam which holds everything together.
I'm happy to say that the author knows her characters through and through and this shows in the consistent and very individual way they act. The author skips between the central characters and keeps the reader riveted till the very end. Also, she offers the reader plenty of twists and turns, many of them romantic, in the protagonist's life. She's in love with Nobby, sort of. The plot is interesting and just shows you that 'life' is complex and you don't need murders and monsters to keep the reader engrossed.
I often find with novels that focus on the everyday drama of living, the author can fall into the trap of bringing too many characters into the story which results in a confused reader and a watering down of the plot. Thankfully, this author did not do this and the six or so central characters were well-developed and impossible to mix up.
I also very much enjoyed the pacing of this novel. The chapters were surprisingly short for this genre and the writing style is pretty fast-paced; flowery prose, thankfully, kept to a minimum. When the author is describing character, setting or mood, she has an imaginative pen: It was a sunny day, unlike the last few which had been as gloomy as Isabelle's mood.
So, what didn't I like? Not a lot, to be honest. There is the odd clumsy sentence and central character's 'feelings' can drag a little. And the author tends to 'tell' and not 'show' in parts, particularly the first chapter. But that's just me being picky. To be perfectly honest, if you are looking for a feel-good novel with plenty of family drama, populated with interesting characters and written by a talented author who knows what her readers want, this is for you.
I always like to end with 'what I liked the best'. Well, for me, it was the ending. I can't tell you what happens, but, let's just say, I finished the book with a smile on my face.
A 'Wishing Shelf' Book Review
www.thewsa.co.uk

Sponsored Ads
INVOKING NONNA
A teen witch battling to stay
safe. Coming-of-age fantasy.
www.amazon.com
---
Henry Disney's
truly unforgettable read
REGAINING LIFE'S WINDING TRAIL
www.austinmacauley.com
---
Blood and Water
Not every dragon
is born equal
www.amazon.co.uk
---
Dragonfly Surprise
Heroine with Special Needs.
Inspiring Magical Treasure!
www.DragonflySurprise.com
---