Meet Billy Bob Buttons
Billy Bob Buttons is a young talented author. On top of being a secondary school English teacher, he is also a pilot.
Born in the Viking city of York, he and his wife, Therese, a true Swedish girl from the IKEA county of Småland, now live in Stockholm and London. Their twin girls, Rebecca and Beatrix, and little boy, Albert, inspire Billy Bob every day to pick up a pen and work on his books.
When not writing, he enjoys tennis and playing 'MONSTER!' with his three children.
He is the author of the much loved, The Gullfoss Legends, Rubery Award finalist, Felicity Brady and the Wizard's Bookshop, UK People Book Prize runner-up, TOR Assassin Hunter and TOR Wolf Rising, I Think I Murdered Miss is his ninth children's novel.
Here he is (far right) winning the 2014 UK People's Book Prize.
The Hungry Grasshopper
Pathers CHEW on spider leg STEW, alligators CHOMP on frogs in a SWAMP, dogs GOBBLE puddings that WOBBLE and cows SLURP and always BURP.
'A delightfully sweet, rhyming story.' Best Books for Kids
'A wonderfully witty story from the wonderfully witty Billy Bob Buttons.' The Independent
I Think I Murdered Miss
WINNER OF THE UK PEOPLE'S BOOK PRIZE, 2014
My name is Simon Spittle and I think - no, I know, I murdered Miss Belcher. I don't carry a gun. Or a knife. Or even a toothpick, but yesterday, in French, I wished for her to be run over by a bus and, later that very day, she was. A big, red double-decker with yellow wheels and a picture of a clown on the bonnet. A Billy Smart's Circus bus.
Your child with love this book. And, to be honest, so will you.' HI5 MAGAZINE
'This is a very funny book. Billy Bob Buttons is a top-notch children's writer.' ECLIPSE MAGAZINE
'Superb! A laugh-out-loud gem.' BOOKWORM
Drowning Fish
THE HUNTER: Sinjin Fury, a power-crazy wizard with a horrifying army of VERY crazy Glumsnappers.
THE HUNTED: Simon Spittle, a Star Trek-obsessed loner with the IQ of a chemistry professor, the temper of a monster with tooth rot and the gift to kill with a wish.
HIS PROTECTOR: Isabella, a street-smart Seeker who knows Simon's the key to, well, SAVING THE WORLD!
The follow-up to the fantastic I THINK I MURDERED MISS.
'Sweet, funny and totally unputdownable.' YA BOOK NEWS
Grandads Slippers
The Boy Who Piddled in his Grandads Slippers
Ralph is always piddling everywhere. He drenched Mummy's sheepskin rug. He filled Daddy's boots. He even took a tinkle in his sister's Coco Pops. But can Ralph be the hero nobody expects him to be?
'I chuckled so much my belly hurt.' BOOKS FOR KIDS
'A rhyming gem.' STORY BOX
'Very, very funny and very, very sweet. A modern classic with a twist. Boys will love it.' TONS OF FUN
Tiffany Sparrow Spook Slayer
My name is Tiffany Sparrow and my job is to slay spooks. It can be messy work, but I enjoy it. Mostly. I get to do a lot of travelling which is fun, but often just to crumbling tombs and spidery cellars. My mum was a slayer too; and so was my grandmother. I miss them terribly. They were killed, you see, by Grimdorf the warlock, so now there's only me and my old grandad left.
But the word on Voodoo Street is...Grimdorf's back.
And he's brought a few of his pals with him.
'Wonderful penmanship.' TONS OF FUN
'Tiffany is the sort of girl every girl wants to be. Cool, funny and a scythe-weilding, kong fu-kicking spook slayer.'' SCHOOL NEWS
Muffin Monster
When Albert's grandad asks Albert to help him in his muffin shop, he's over the Moon. But there's a problem. A big, slimy problem. There's a monster in the cellar and he's a big fan of all things sweet!
'If you enjoy Roald Dahl's books, you'll enjoy this.' BOOKS 4 KIDS
'Fuuny bits, thrills and a hefty dash of the absurd. Wonderful stuff!' ECLIPSE
Tor Assassin Hunter
The year is 1870. Major Tor, a mercenary and deadly sniper, is called from battle to stop Locust, a SWARM assassin who is plotting to murder the King of Sweden.From the rubble and watery craters of France to the shadowy corridors of Stockholm's old castle, Tor must discover who the assassin is and put a stop to his, or her plan to throw a country into a barbaric and bloody war.
Accompany him if you dare into a world of bayonets and bullets, where the enemy's sword is forever chasing your shadow.
But remember this, when you hunt assassins... ...trust nobody.
'So many twists, I felt dizzy.' BOOKWORM
TOR Wolf Rising
A volcano of fury is stirring, trapped only by the thinnest crust of skin and willpower. The spirit of the hamrammr is in my blood...
EVIL BECKONS
'A jaw-dropping, cracker of a book.' ECLIPSE
'Dan Brown for kids!' BOOK BLAST MAGAZINE
The Gullfoss Legends
Over a century ago, a twelve year old girl walked 120 kms to Reykjavik to persuade the King to help her. Her journey lasted two weeks; two weeks of wild snow storms, skin-blistering winds and deadly clouds of volcanic ash. This is her story.
The British plan to put a dam on Gullfoss, a magnificent waterfall in Iceland, but Sigridur plans to stop them. Setting off to see the King, she must face scalding pools of hot mud, a scary wolf-man and the most evil of assassins, the ruthless Scarecrow, who must stop her at all costs.
Based on the Gullfoss Legends, this is a story for anybody who has battled but refused to give up.
'Dazzling!' Kidz BOOK CLUB
Galibrath's Will BOOK ONE
Galibrath's Will BOOK ONE (Felicity Brady and the Wizard's Bookshop)
The day Felicity Brady discovers The Wishing Shelf, a magic bookshop in the small town of Twice Brewed, is the day her life is altered forever. A helpful clock and a mulish door allow her to travel to different lands where she plays Vipers and Stepladders, pilots flying carpets and visits creepy Cauldron City. There's a krakor thunder serpent, waltzing books, even a copy of 'Be Warty, Be Proud' sitting on the cistern in the loo. Armed with an inquisitive mind and the magical skills of a wet doyley, Felicity must face monster dorfmorons, woolly glumsnappers and powerful wizards. But lurking in the shadows, watching her, is the most evil monster of them all, the terrible shubablybub. And she keeps reminding everybody, 'In school, they only teach us netball.' Life is very complicated for Felicity Brady.
Articulus Quest BOOK TWO
Articulus Quest BOOK TWO (Felicity Brady and the Wizard's Bookshop)
FINALIST IN THE RUBERY BOOK AWARDS 2011
If you don't go, Felicity; if you don't get Articulus back, there will be a terrible war in this land.' The gargoyle rested his claw on her shoulder. 'Galibrath left the book to you and now it is up to you to find it and return it to The Wishing Shelf. Remember, in the wrong hands it could destroy...everything.
'Full of magic and adventure. Harry Potter fans will love it.' RUBERY BOOK AWARD
'Charming! Made me wish I was young so I could find a magic bookshop of my own.' KIDS BOOKSHELF
Incantus Gothmog BOOK THREE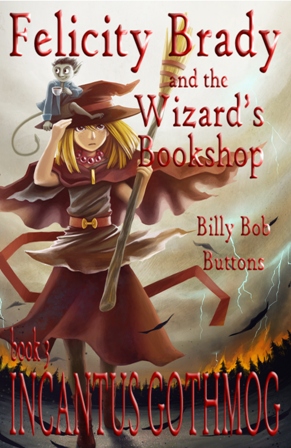 Incantus Gothmog BOOK THREE (Felicity Brady and the Wizard's Bookshop)
FINALIST IN THE RUBERY BOOK AWARDS 2011
Gothmog is a fool, but fools can be dangerous. He knows you can destroy Articulus, Felicity. So you must crush him. Crush him or he will crush you.
'Felicity Brady keeps getting better!' BOOK A DAY
Glumweedys Devil BOOK FOUR
Glumweedys Devil BOOK FOUR (Felicity Brady and the Wizard's Bookshop)
FINALIST IN THE RUBERY BOOK AWARDS 2011
Felicity dropped to a whisper. 'The thing is, I plan to go monster hunting in the morning so I need a bit of a 'pick me up'. I may even have to run.
So you can catch it?
God, no!' Felicity looked shocked. 'So I can leg it.
Crowls Creepers BOOK FIVE
Crowls Creepers BOOK FIVE (Felicity Brady and the Wizard's Bookshop)
FINALIST IN THE RUBERY BOOK AWARDS 2011
It was night, the bats in the rafters awake and watchful. But all seemed still, most of the monsters asleep or on sentry duty by the bookshop door. But not everything slept. Hidden in the deepest corner of The Wishing Shelf, over a hundred books had gathered, answering the call to arms.
The 'Witch Spotter's' book, perched on a top shelf, hushed them. 'Brothers and sisters," she whispered, "wickedness has invaded our home. Queen Blasthoof is slowly destroying our papery world, but not for much longer for soon we will stop her.'
'A thrilling end to the Felicity Brady books.' STORY BOX
Wide Awake
Ralph's woken up and wants to play. But Daddy's still snoring in his bed. No problem! With the help of his trumpet, a very smelly nappy and three spiders in a box, Daddy will soon be wide awake!
'Kids will love it. Dads, not so much.' Story Box
Sponsored Ads
MY COMMUNITY
Celebrate diversity -
Come meet our community!
www.mcp-store.com
---
YOUR FRIENDLY MBS PUBLISHER
An ethical, not-for-profit,
prize-winning company!
www.local-legend.co.uk
---
LOST IN THE QUAGMIRE
A Merlin mystery. 'Fascinating
and eminently readable novel'
www.encirclepub.com
---
TAILS (Silver Wishes Bk 1)
Heart-stopping,
tail-dropping adventure.
www.amazon.com
---
Ninja Spy Cats by R.F. Kristi
★★★★★ Love it! Absolutely
adored this book! (AMAZON)
www.amazon.com
---
THE NAMESAKE: Truth is Freedom
When faith turns to violence,
two women are changed forever
www.amazon.co.uk
---
THE THIRSTY CROW...
Tales of WISDOM for toddlers,
Simple text, Vivid images!
www.amazon.com
---
Finnigan the Circus Cat
A rescued kitten finds a home
in a circus museum!
www.amazon.com
---
The Staten Island Butcher
Priest tries to rescue
student from serial killer
www.georgerhopkins.com
---
The Springer Spaniel Mysteries
"For comic canine mystery
lovers!" - Midwest Book Review
www.amazon.com
---
THE LEARNING PROJECT
Become fully human.
Welcome your rites of passage.
www.mindstrengthbalance.com
---
Billy Blacksmith: Demonslayer
Teenagers vs demonic,
sword-wielding spiders
www.amazon.com
---
BEWITCHER
'Potent. Gripping.
A Jaw-Dropping Shocker'
www.amazon.com
---
Letters from the Dead
Killer seeks revenge
for his daughter's suicide
www.georgerhopkins.com
---
The Battle of Trafalgar Square
Told from the pigeon
side of the conflict!
www.amazon.co.uk
---
The Ride of Doom
A wonderfully fun, exciting
magical adventure.
www.amazon.com
---
PSYCHIC BYSTANDER BOOK SERIES
Do dead people watch you
sleep? Prepare to believe.
www.amazon.com
---
TAILS, Finalist 9-12 yrs
'A magical story that
children will love.'
www.amazon.com
---
Djabali's Journey
A kid's storybook about
courage and friendship.
www.bicadeideias.com
---
Blue Falcon Publishing
Children's publishing
outside the box.
www.bluefalconpublishing.co.uk
---
THE SILENT PARTNER
AND OTHER STORIES OF TRUTH
"An absolute must-read"
www.troubador.co.uk
---
THE PELICAN
'Emotional, sensitive and
deeply moving' Amazon
www.mnaidoo.com
---
A TRIBUTE TO TERRY PRATCHETT
Seventeen tales of magic &
memory #defeatdementia
www.amazon.co.uk
---
Love Everlasting
- because love knows
no boundaries
www.amazon.com
---
Dragonfly Surprise
Heroine with Special Needs.
Inspiring Magical Treasure!
www.DragonflySurprise.com
---
I AM ME
Sensitive picture book 3-7,
profit spent on child refugees
www.suehamptonauthor.co.uk
---
HOLLY's HURRICANE
A fantastical ode to New
York City's past and future.
www.amazon.com
---
Blemished But Not Broken
"A 5 star Reader's Favorite"
Gritty - filled with drama
www.amazon.com
---
THE POLYGAMIST William Irvine
Five Stars
'prose as taut as skin' Kirkus
www.amazon.com
---
Sons of the Sphinx
If they fail, she could die
over 3300 years from home.
www.amazon.com
---
REGAINING LIFE'S WINDING TRAIL
The unusual life of
a scientist and poet
www.austinmacauley.com
---
Tales of Mr. Snuggywhiskers
"Cozy" Gold Medal Series,
"timeless adventure"
www.amazon.co.uk
---
Story Behind Writing a Mystery
Read a great mystery with
author notes and how-to
www.amazon.com
---
The Candy Judge
**** 'Fun, educational...
beautifully illustrated...'
www.amazon.com
---
Mirror, Mirror, on the Wall
Bon voyage - take the journey,
explore those self-discoveries
www.amazon.com
---
White Plains
"The plot moves at a
breathtaking pace"
www.amazon.co.uk
---
MOOJIE LITTLEMAN
A disabled boy works wonders.
"Awe inspiring" by critics.
www.amazon.com
---
PROFESSIONAL GRAPHIC DESIGN
Low-cost, high-quality
graphic design for authors!
basilebacorn.myportfolio.com
---
HENRY (A Gold Medal Winner)
Incredible true story of WWII
w/orig photos & docs
www.amazon.com
---
Trazer:Kids of Stolen Tomorrow
Is Dara the Savior of a
World Built to Break Her?
www.amazon.com
---
ABSENCE, Whispers and Shadow
'A superbly plotted fantasy.'
An epic paranormal fantasy.
www.amazon.com
---
FAB (Friends Against Bullying)
Click below to read about the
BEST CLUB EVER!
www.alexhallatt.com
---
The Moon Pigeon
NASA report on 'MOON PIGEONS'
Discover the truth!
www.amazon.com
---
Horrifically Half-Baked Ham
A TRILOGY Zombies and vampires
and witches, oh my!
www.squareup.com
---
THE REINDEER CAPER
A missing reindeer, a
murdered elf and Santa in jail
www.amazon.co.uk
---
DIARY OF A SNOOPY CAT
From the award-winning author
R F KRISTI
www.incabookseries.com
---
Two Spoons of Bitter
A story of love,
betrayal and redemption
http://www.sonjamongar
---
Making a Mystery:Annie Tillery
Author/Educator, Linda Frank,
the story behind the story
www.amazon.com
---
THE LOVE THAT DARE NOT SPEAK
ITS NAME - exhaustive approach
to queer issues is commendable
www.amazon.com
---
Word of the Week: Volume one
A wry examination of the
words we think we know.
www.balancemedia.co.uk
---
Kindness, Kale & Kettlebells
A journey to self-awareness
Amazon bestseller Bio Soc Act
amzn.to/2XH93IT
---
GUIAMO, Book 1
Epic B.C. story combining
history, myth and gods.
www.amazon.co.uk
---
THERE'S A BIZER IN MY BATHTUB
Interactions among nature's
bugs, flyers AND crawlers.
www.amazon.com
---
RECKLESS OBSESSION
'Twists and turns
fill every page' WSA
www.daihenley.co.uk
---
Space Cop Zack
PROTECTOR OF THE GALAXY
"Fantastically fun!" WSA
www.donwinn.com
---
THE DRY by Rebecca Nolen
This book is a feast
for the senses.
www.amazon.com
---
BROKEN SEA
A dramatic love story set
in the troubled days of 1968
www.local-legend.co.uk
---
WRITING COMPETITIONS
Poetry, flash & short story
up to 8k words. Top prize £200
www.earlyworkspress.co.uk
---